Our Story
Muljibhai Mehta International School
PLAY GROUP - CLASS XII
GRADES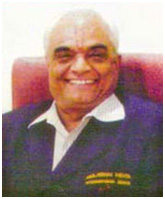 Shri. Chimanbhai M. Mehta
Chairman & Founder Trustee
FOUNDER MESSAGE
It is indeed a welcoming idea to inaugurate the school's very first Newsletter, 'The Vision' on the auspicious occasion of its first Annual Day on 7th March 2008. I am certain this would provide a wider canvas for the students to draw their rainbow of imagination.
The Management of Muljibhai Mehta International School ensures that the school will not lack the resources needed to achieve the highest possible standards of excellence. I am confident that the staff & student will seize every opportunity to make this school one of the best schools.
A Co-Educational School
Located in Gokul Township, Bolinj, Virar(W), Thane. The serene neighborhood and pleasant environment will make studying at MMIS an unforgettable experience. MMIS delivers from play group to Grade XII and follows the syllabus of Central Board of Secondary Education (C.B.S.E) and prepares students for the All India Secondary School Examination (Class X) and All India Senior School Certificate Examination (Class XII). The school is a co-educational institution with international facilities.
The Venture
Muljibhai Mehta International School is the venture of the renowned Mehta family. It is under their trust Muljibhai Gopalji Mehta Charitable and Educational Trust. This school is dedicated to the fond memory of Late Shri Muljibhai Mehta and Late Smt Leelavati M Mehta deceased parents of the Managing Trustee and founder Shri Chimanbhai M Mehta. The founder of this school feel that the best service to humanity is to make the other person self sufficient and self reliant. The school encompasses an impressive campus speckled with the various facility areas that exemplify an excellent infrastructure.
The faculty at the MMIS Academy includes some of the most respected and prominent names in teaching. The entire faculty is highly qualified and well trained.
To create a tranquil ambience for learning Pre-primary classroom has been painted in claming natural picture and shades for Primary and Secondary.
The school has been affiliated to Central Board of Secondary Education (C.B.S.E) New Delhi upto Senior Secondary level (Grade XII).